If you have lost a single tooth due to trauma or decay or will need to have a tooth extracted in the near future, then you may be wondering what your options are for replacing your tooth. At the Denture & Implant Clinic Dr. Suril Amin and his staff specialize in replacing missing teeth so that patients can get back to their normal lives, eating the foods they love without worry and showing off their beautiful, natural-looking smiles.
What are the options for replacing a single missing tooth?
There are five main options available to you if you need to replace one tooth.
Option 1: Do nothing and leave it
It is sometimes OK to do nothing about your missing tooth, depending on its location in your mouth and your overall oral health. However, in many cases, it can cause issues such as the following:
The opposing tooth can over-erupt, reducing the lifespan of another tooth
Reduced function of the teeth when you are eating and speaking
Reduced comfort—having a missing tooth is just sometimes annoying!
If the gap due to the missing tooth is in the smile line, it can cause cosmetic issues
If you have many missing teeth, it can increase the force on your remaining teeth, which can then cause problems like chips in your teeth and accelerated bone loss around them
In addition, the neighbouring teeth can tilt into the gap left by the missing tooth. As well as causing cosmetic issues, this can also cause bite issues and reduce the lifespan of the other teeth. Teeth are very good at withstanding vertical biting pressure, but once they are tilted, the force changes to a non-vertical one, which will accelerate the bone loss around the tooth.
Option 2: Maryland Bridge
A Maryland bridge is a false tooth that you adhere onto one of the neighbouring teeth. In contrast to a conventional bridge, it is a more conservative bridge that uses metal or porcelain wings on one or both sides of the bridge rather than crowns that are affixed on to the top of the neighbouring teeth.
A Maryland bridge can only be used in certain situations and can sometimes have poor longevity. It is a fixed option, which means it is not removable.
Option 3: Conventional Bridge
A conventional bridge is also a non-removable option, and consists of a replacement tooth for the missing tooth and two crowns on either side that fit over your existing teeth to affix it in the mouth. The crowns and replacement tooth are joined together. To accommodate the fixed bridge, the dentist grinds down the two neighbouring teeth.
The main issue with conventional bridges is that you have to grind the neighbouring healthy teeth down quite a lot, which can damage the tooth. In addition, it's likely that your natural teeth will begin to decay after 15 years, and then you will have three missing teeth and not just one!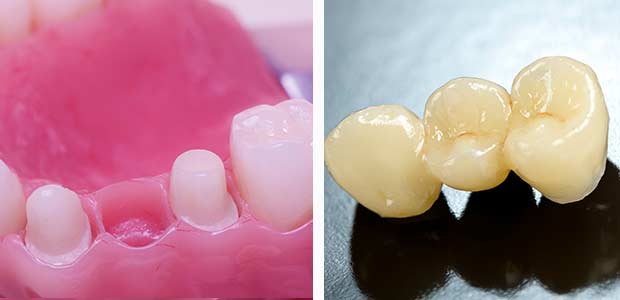 Option 4: Dentures
A denture is a removable tooth replacement option, which means you have to take it out at night-time.  Due to its removable nature, a denture will always have some movement in your mouth and it will be a lot bulkier than an implant. Dentures can work well for multiple missing teeth, but for a single missing tooth, a denture is not a great option.
Option 5: Dental Implant
A dental implant is the best single tooth replacement option, as it:
Has the best longevity
Is independent of the neighbouring teeth (so that you are not damaging them at all)
Is the most comfortable
An implant is a bit like a tooth. The actual implant is made from medical-grade titanium and is gently placed into the bone. It is then normally left for 3-6 months for the bone to fuse onto the implant surface. Once this has healed, an impression is taken that allows a skilled laboratory technician to make a crown. The crown is the actual tooth that is secured onto the implant with either cement or a screw.
Sometimes, we can extract a tooth and on the same day, place the implant (immediate placement) and secure a temporary crown (immediate loading). This all depends on how much bone you have and the quality of the bone. If both are good, then this same-day treatment is possible. The temporary tooth is designed more for cosmetic reasons and we don't recommend that you use it to eat hard foods, as this could cause failure in the early stages of implant healing. After the final permanent crown is fitted on to your tooth, you should be able to eat whatever you want.
Learn more about your tooth replacement options
If you have a missing tooth or a planned tooth extraction, we encourage you to learn more about your single tooth replacement options by calling The Denture & Implant Clinic to schedule a consultation. Call 020 8629 1226 today!