Can you spot them?
A lot of dentists are drawn into the field of cosmetic dentistry as it is what a lot of people nowadays want – they not only want their teeth to function well, but want them to look great as well.
This side of dentistry is glamorous, as it makes patients look great – that's why a lot of dentists go into this field, however, they often forget about the less glamorous side such as dentures. Therefore, this has led to a genuine lack of interest and knowledge amongst general dentists regarding dentures, and it's often difficult to find a good dentist who can make a really really good set of dentures.
Denture making is also an art and a lot of skill is involved. It's very unforgiving so you make a small mistake, it can cause big problems. Because it's difficult, some general dentists often avoid making denture where possible.
Our philosophy at The Denture & Implant Clinic is that people's dentures are a massive part of their lives, and having inadequate fitting and looking dentures can affect the quality of their life. That's why our dentists have not only had in-depth training in cosmetic dentistry, but also dentures so that we can combine the two fields to offer you truly bespoke, cosmetic dentures. We have created literally thousands of smiles and it's what we do day to day.
Cosmetic dentures are a truly bespoke, well-fitting appliance that blends in harmony with your mouth and facial features to give you a natural great looking smile where no one can tell that your teeth are missing.
It not only replaces your missing bone but also gives you back the bone that you have lost over the years, making you look 10 years younger.
How do you get a great cosmetic result?
Understanding your needs
Many patients come to us, as they want their new dentures to not only function well but also to look good too.
It's important for us to understand what result the patient is looking for, as what we think looks good on them may not be what they think looks good on them.
Sometimes our patients want their dentures to replicate exactly what their natural teeth were like before they lost them. Other times, people will deliberately ask us to put gaps in their teeth to make them look natural.
At The Denture & Implant Clinic, we pride ourselves on creating the most beautiful, natural looking dentures, so it's important for us to discuss this all at the very start.
At the other end of the scale are patient's who want a perfect smile or a "Hollywood Smile". If that's what you want we can give it to you – the point being made here is that it's important to discuss this with you before we start treatment.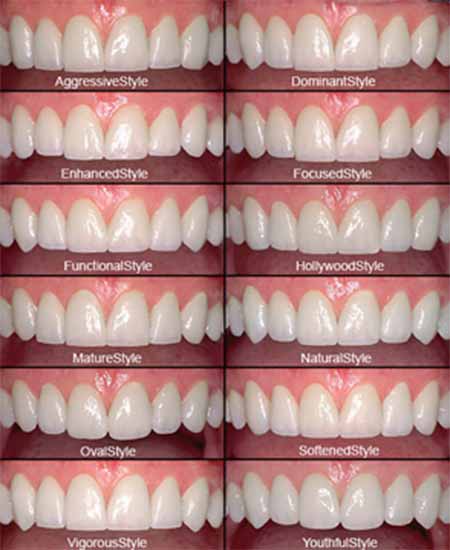 Bespoke dentures that you help us craft
ivoclar vivadent
Before we fit the dentures, we always have a "try-In" stage to ensure that the cosmetics, bite and fit is perfect. At this stage, we get to see what the dentures look like on you and it's at this stage where we can fine-tune the cosmetics. If you don't like the position of any teeth, we will take them off the denture and then move them into the new position and we do this as many times as you like until it's perfect. This way, you are completely in control and it's predictable. So when we come to the fit, we know everything will be great – we don't leave it to chance!
The best-looking teeth on the market

We also use the best acrylic teeth available on the market and they truly are a work of art. They have been crafted in Switzerland where a group of dentists and laboratory technicians studied thousands of teeth to create the best range you can get. We have different teeth depending on your size, gender, built, age, shape of face, shape of smile etc. etc. They are built up of three layers of hardened acrylic, which closely replicates how natural teeth are made up.
The type of teeth that we recommend you use are one of the following. We use all three and will decide, depending on which ones would work best for you:
Ivoclar Phonares II
Ivoclar Vivadent
Schottlander Enigma
3D Dentures
In addition, our 3D Dentures improve your facial support to give you back all the bone that you have lost over all these years – it basically prevents the sunken in look. If you would like these please let us know and we would be more than happy to explain it to you.
Written By Dr Suril Amin